Over 80 Club of 2018
Nice to see this event continuing as an annual event. Mayor Steve Black and local media were in attendance. We were all entertained by Steve's participation and demonstration of his curling skills.
Over 80 Club of 2016
This is the forth time we have held this event (March 24, 2016) and it seems to be gaining in popularity and enjoyment. We had media coverage, the mayor attended and the teams were really into the game (won on final shot). Thanks to organizers Ray Schizkoske and Noel Arbic fun was had by all. Ray had placed the 10 participants into two teams and had them rotate at each position after each end so that all took part in the event. Mayor Steve Black, Gervais Pelletier, Noel Arbic and Wayne Jaszan helped with the sweeping. A cake was provided. Jim Hall provided some Boost and the players boasted.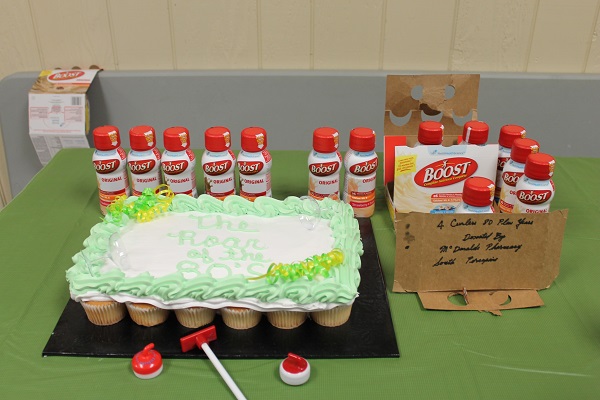 The Roar of the Eighties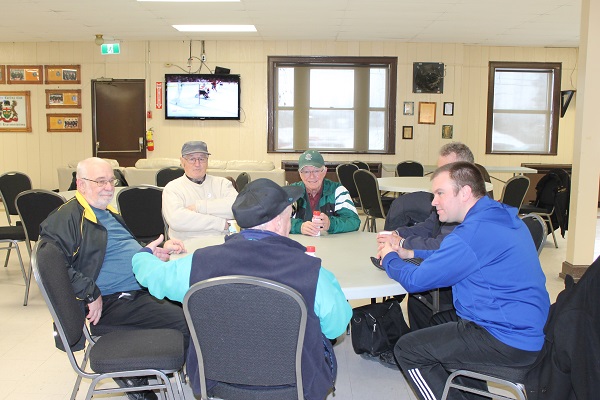 Pre game media interviews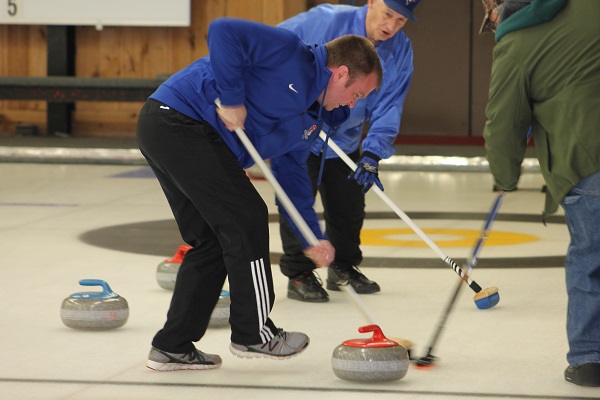 Game On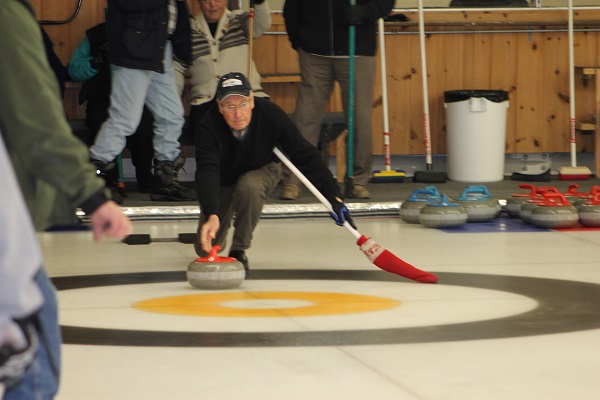 Neil MacIsaac: The Natural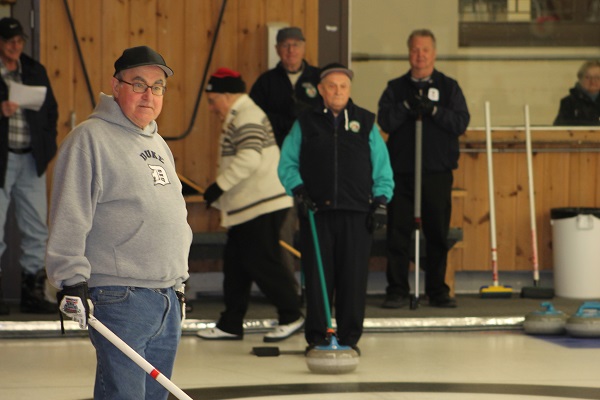 Smilling Gerry Desjardins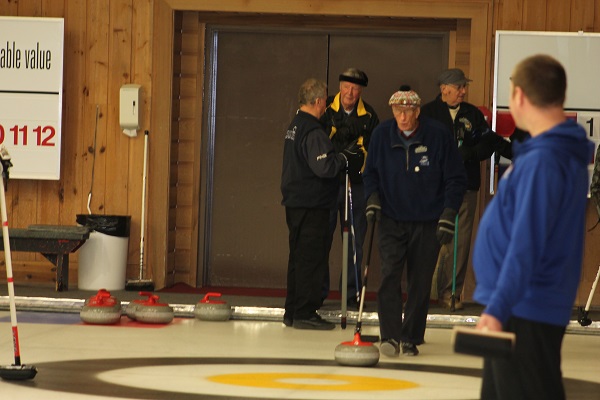 Don Critchley: focus...focus...yes.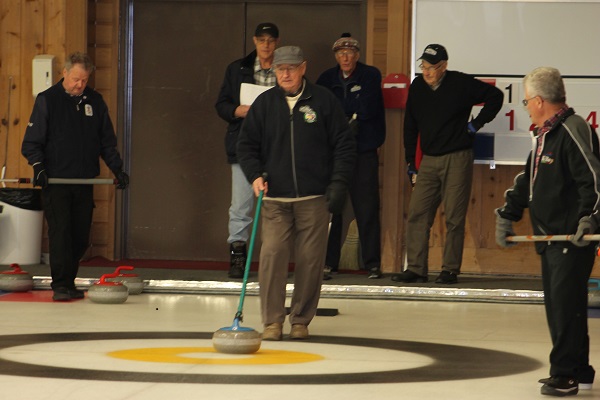 Ray Gosselin: don't forget me.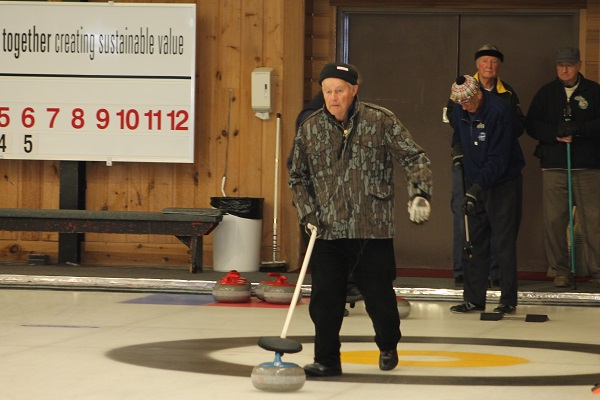 Marcel Heroux: the stick expert
A Job Well Done
=======================================================
===============================
================
=======


.
Over 80 Club of 2015
For the third time since 2007 the New Horizons Curling League had a special game on March 19, 2015 at the 10:30 am draw. This year we not only had the eight curlers who participated who were over eighty, but we also had five spares ready to participate. Norm Beaudry introduced the team and commented on their achievement and introduced Mayor Steven Black and councillor Mike Doody who also commented on the historical meaning of the event. Mayor Steven Black not only attended the opening ceremony with Mike Doody but he also participated as a volunteer sweeper for the two teams. Both skips were very impressed with his sweeping ability (could mean changes at council meetings perhaps).
Marcel Heroux (L) and Len Comisso....the plan?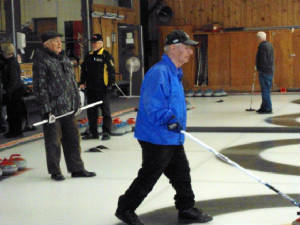 Neil MacIsaac in action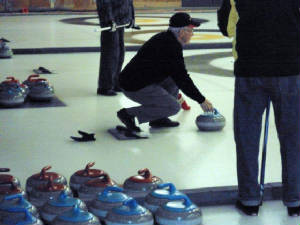 Team2:Eugene Charlebois, Moe C. (sweeper),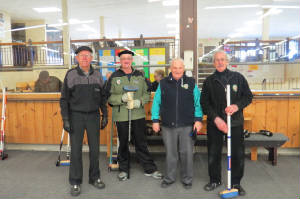 Gerry Desjardins and John Perrier (skip)
Winners: Marcel Heroux, Len Comisso,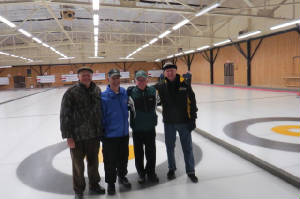 Roger Pellerin (skip) and Armand Boudreau
Over 80 Club of 2014
For the second time since 2007 the New Horizons Curling League had a special game on March 20, 2014 at the 10:30 am draw. All 8 members participating in the game were over 80 years of age. All had a good time.
Ray Gosselin, Armand Boudreau, Eugene Charlebois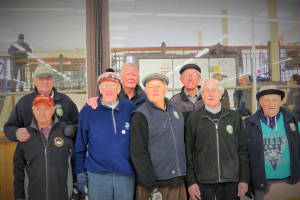 Front: Archie Arcieri, Don Critchley, Marcel Heroux, John Perrier, Gerry Desjardins

Class of 2018



Left to right:. Phil Barrette, Armand Boudreau, Roger Pellerin, Mayor Steve Black, Gerry Desjardins, President Wayne Jaszan, Len Comisso, Neil MacIsaac, Jim Hall
Missing: Marcel Heroux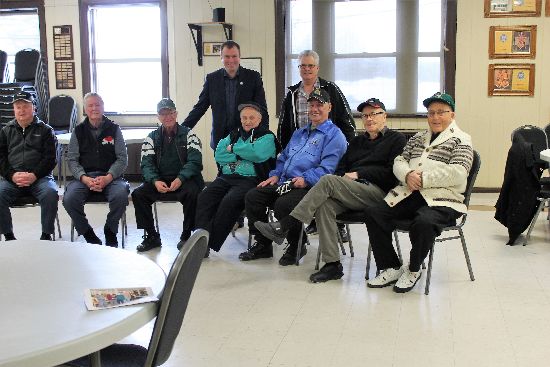 The Big 10 of 2016

Left to right: Don Critchley, Neil MacIsaac, Gerry Desjardins, Mayor Steve Black, Roger Pellerin, Phil Barrette, Ray Gosselin, Marcel Heroux, Len Comisso, Armand Boudreau, Jim Hall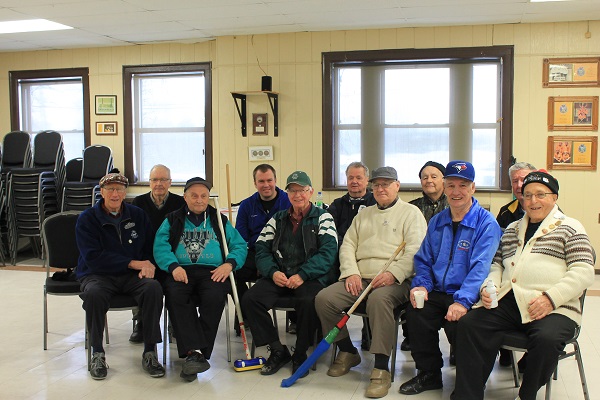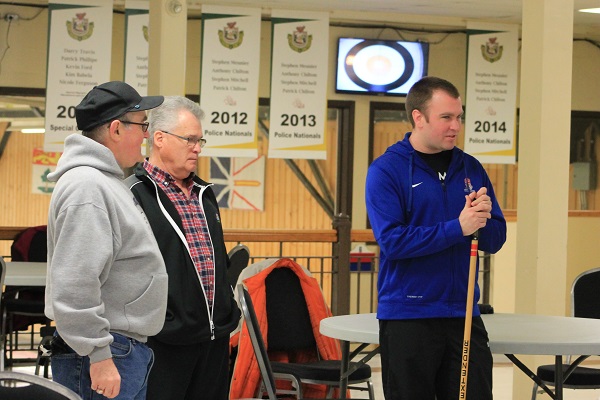 Opening Comments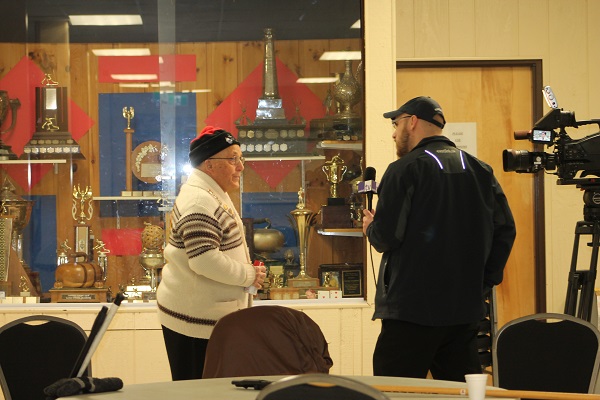 Pre game media interviews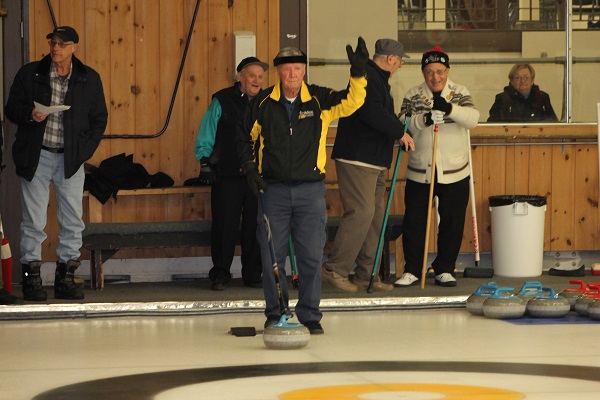 Armand Boudreau "I'm ready...anytime guys..."
Jim Hall: What a little Boost can do.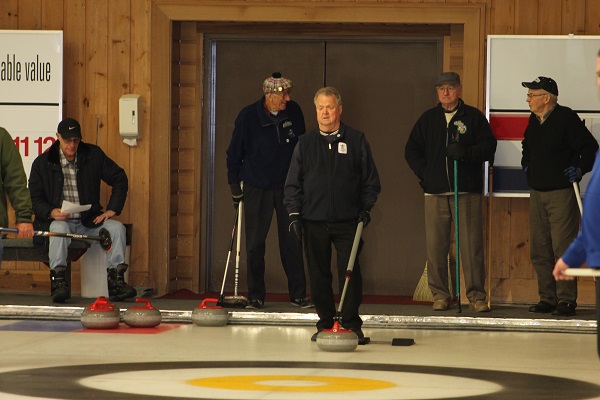 Phil Barrette: the rookie 80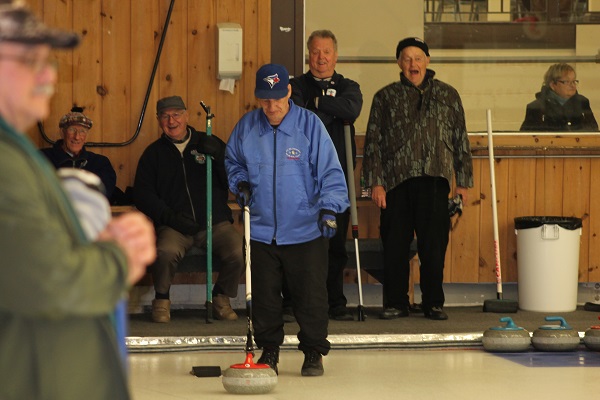 Len Comisso: the skip's shot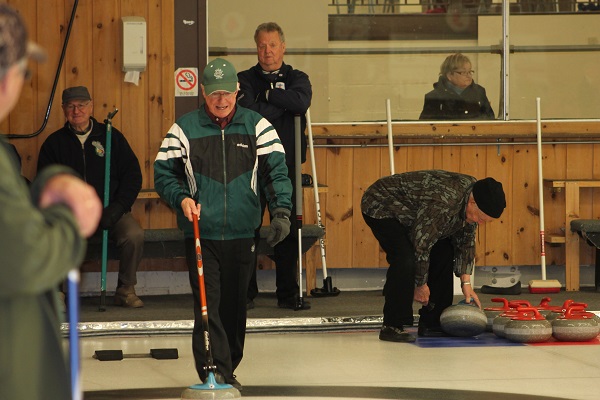 Roger Pellerin: the other skip's shot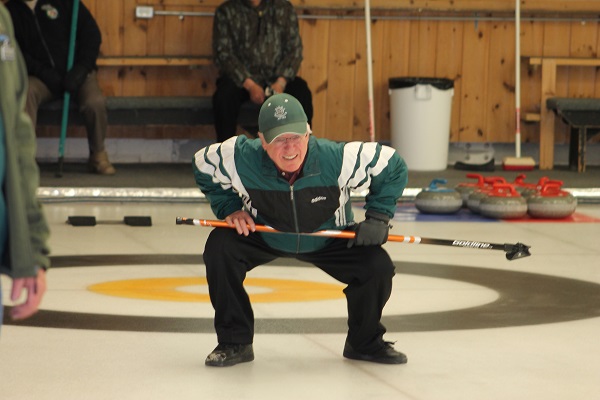 Did I hit or did I miss?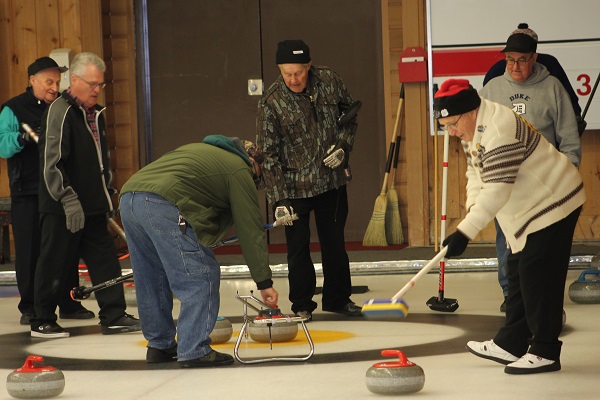 The measurement. Who wins?
=================================================
Over 80 Club of 2015
Mayor Steven Black and Mike Doody stand behind.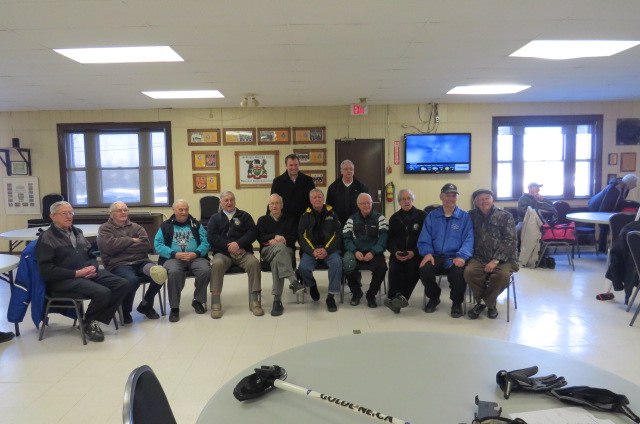 Missing: Jim Hall, John Mercier, Don Critchley
Norm Beaudry introduces the group (L to R)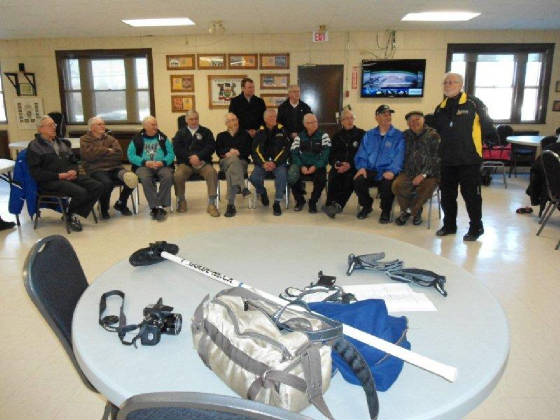 Eugene,Bob,Gerry,Ray,Neil,Armand,Roger,John,Len,Marcel
Mayor Steven Black (L) and Moe Charlebois
helping with the sweeping
The Good Eighties of 2007
Eight of our senior club members participated in a challenge curling game against each other on a regular curling day of March 28, 2007. The teams did not attract much attention at the time. Though the winner of the game is not known, what was special about the game was that all eight members and one spare were all over the age of eighty years of age with some approaching ninety. What a feat!
Members were:
Dan Chenier George Coupland
Tony Delost Basil Libby
Barney Spence Al Marcassa
Georgina Steep Peter Skrumeedy
Spare: Tremain Banks
Georgina Steep resting...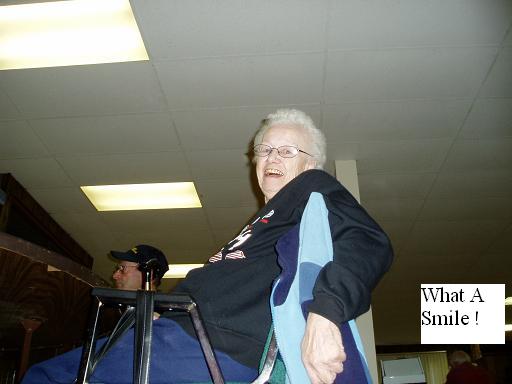 but ready for another game.