2017-2018 Season Summary
Timmins New Horizons wins in Iroquois Falls to win the Challenge Cup. In dramatic fashion Timmins won but it came down to the skip's final rock in the final game with both clubs watching the delivery! (Pep talk on the bus from our president seems to have paid off.)
Team Jaszan won the Post-Christmas Wednesday draw. Skip Wayne Jaszan, Vice Jeremy Pacaud, Second Rob Armstrong, and Lead Jerry Hannah.
New Horizons received a letter of thanks from the South Porcupine Food Bank
New Horizons Senior Curling League has been given a donation in honour of the late Bob Armstrong. This money will be used to create a header plaque for the over 80's recipients to honour Bob's love of the game for over 60 years. The remainder of the funds will be used to purchase equipment which will be used in the annual curling clinics to promote safety. Below is a link to the letter from Diane Armstrong to the League. Thanks Diane! (Mom)

Wednesday Pre-Christmas winners were Team Boudreau who were undefeated in the draw. Skip Armand Boudreau, Vice Ray Ginglo, Second Dave Moore, and Lead Ivy Haansen.

Wayne Jaszan would like to thank Malcolm MacDonald for his excellent work on the curling clinic Letter of Thanks
Dusty Baker bonspiel Nov 21 and 22, 2017 has come and gone see Dusty Baker Page for results. Thank-you to all of the organizers and people from out of town that made this event a great success.
2016-2017 Season Summary
This was a good year as a club. Membership was close to last year. Bonspiels went well. Banquets were well attended. Participation in draws was great.



See links at left for event results.

A brief highlight summary from minutes of September 28, 2017

HIGHLIGHTS:

- Sign purchased for the McItyre Curling Club

- Christmas banquet no charge

- Membership prices to remain the same

- Over 80 game dependant on number of curlers

- Sponsor Siva's all asked to patronize our sponsor

- Clinic to be 4 days this year

- Dusty Baker bonspiel to be moved to original dates

- New poster to be used to promote the club (see link on right)
Annual General Meeting and Banquet 2015
General information from our meeting:
Fees will stay the same for next year
Rita Beaudry & Constance Leroux are new directors
Fee for Iroquois Falls Clhallenge: $ 10.00. No charge for bus.
19 new members this year.
For more information see minutes of AGM
Some pictures from final days follow.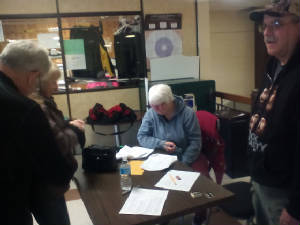 Gervais and Claudette Pelletier take registrations at Joe Gubbels Funspiel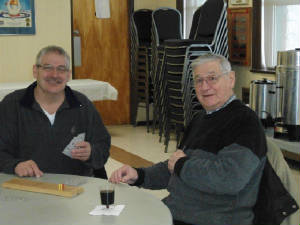 Albert Morrish and Ray Gosselin play cards while waiting for the meal.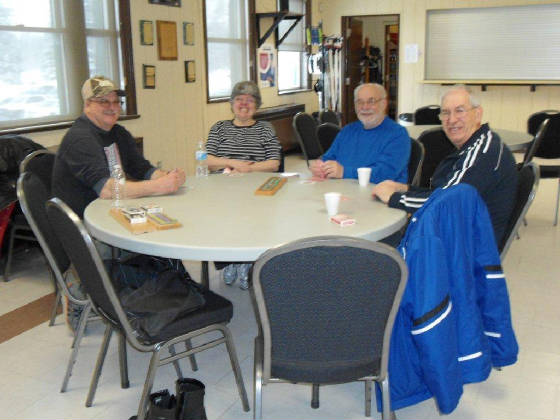 Gervais Pelletier, Claire Champion, Louis Fortin and Paul Champion also play cards between games.
Ray Ginglo hoping St Patrick will help his curling
Seniors Over 80 Club
Seniors over 80 years of age from Timmins New Horizons will once again have a special draw on the last day of regular curling on March 19 at the 10:30 draw. Nine or ten seniors will participate. Ray Schizkoske will organize the event. Last year's game was well enjoyed by everyone.
Teams
Seniors Place well at Teacher Bonspiel
Seniors from Timmins New Horizons received two trophies at the 65th Teacher Bonspiel held at the McIntyre Curling Club on the weekend of January 9-10 2015. Skipped by Bill Vane , vice Ray Schizkoske, second Ray Ginglo and lead Norman Beaudry the team won two games and lost one. In the process they won the "B" Division trophy and also had the highest score in the seniors division winning that trophy also.

Sitting L-R: Bill Vane and Ray Schizkoske
Standing L-R: Ray Ginglo and Brian Beaudry
Christmas Banquet 2014
This year's Banquet had over eighty people attend. Over $300.00 was raised to donate to the food bank. Terry Pawson's spaghetti and meat balls meal was a big hit. A special thanks to Terry, his wife Chris and all the helpers who helped at the meal. A good time was had by all.
Merry Christmas
Dusty Baker Bonspiel 2014
There will be a small change in the draw structure in this year's event. The last game for each team will change. Instead of a set predetermined game, the top teams in each draw will play each other ie: 1st vs 2nd, 3rd vs 4th, 5th vs 6th etc. This should make the last game very interesting for all teams. The percentage system will still be used to record results of the last game thus any team could leapfrog teams ranked in a higher position before the game. "Very... Interesting".
Gerry Lajeunesse Passes Away
We were sad to here of Gerry's sudden death this summer.
Gerry, as quiet as he was, would always have a little snicker in his smile when he skipped his team past the elite skips at the club. His eyes would let you know when others took him for granted. He was a pleasure to curl with.
Phil Rowlandson, Sheila Harrison and Ron Hueston
with skip Gerry at Joe Gubbels Bonspiel 2013
Executive Meeting Sept 17, 2014
A meeting was held for the executive to finalize information for the current season. Minutes of the meeting can be found in the minutes folder (link at left).
The Mac Needs Timers for Provincial Feb 5-9
The Curling Club needs timers for the upcoming event. A sign up sheet will be posted at the club (week of Jan 27-30). Training will follow. Be up close for some good curling.
Ron Boulay passes away December 15th.
At 79 years of age Ron was still enjoying the game of curling at our club which he joined in 2006. He was here earlier this year and spoke to many of the curlers. If you curled with him you enjoyed his sense of humour at not taking the game too seriously. " I can't make that shot" was not unusual for him to say when called upon by the skip.
"I had fun playing on the same team as him." (Ray G.)
Ron Boulay (left) poses with skip Bob Gerbasi and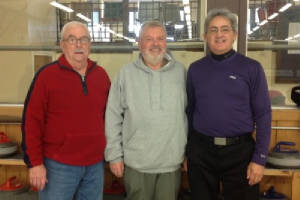 Ray Ginglo at last year's Dusty Baker Bonspiel.
Bob Poirier and Andre Cloutier
This summer saw the passing away of two of our avid curlers.
Bob had been an active member since 1992. Andre joined in 2006. Bob and Andre were soft spoken and displayed a love of the game and a relaxed playing style.
They will be missed.
A moment of silence was held in their honour at the beginning of curling.
Andre Cloutier (second from right) poses with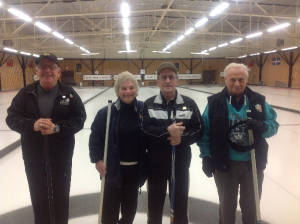 Gerry, Francy and Don at the Joe Gubbles funspiel
Bob Poirier (forth from right) skips his team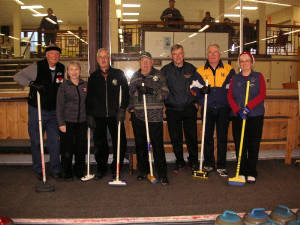 at the 2012 Joe Gubbles Funspiel
Men Teachers Bonspiel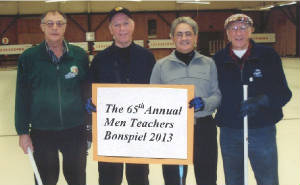 Vice Ray Schizkoske, skip bill Vane, second Ray Ginglo and ageless lead Don Critchley pose before the 65th Annual Men Teachers Bonspiel held this weekend of January 11-12, 2013. The foursome placed first in the senior's event winning all three of its games. Acquaintances were rekindled will old and new teachers alike.
Eighteen teams participated and fun was had by all at the McIntyre Curling Club. Next year's event will take place in Hearst.
Dusty Baker Bonspiel 2012
Twenty teams participated in this year's event. A special thanks to Malcolm MacDonald our drawmaster who had to quickly rearrange the teams and draws a short time before they had to be posted.
Elmer Fisher's team from Iroquois Falls was the overall winner. His team and Bob Hardy's team( 2nd place) also from Iroquois Falls were the only undefeated teams in the bonspiel. Marcel Bougie's team and Orval Turcotte's team placed 3rd and 4th respectively. Most of the other teams had a good time with many " if only..." discussions taking place at the social tables and lunchtime.
Ray Schizkoskie thanked Elaine Nyman( meal/prizes organizer), Rhea McKane(desserts), Noel Arbic (coffee), Don Davidson (50/50 draws), Malcolm MacDonald (drawmaster), and all the participants for attending.
Promoting Curling October 18-19, 2012
A booth will be placed at the Timmins Squate on October 18th and 19th to promote curling at the McIntyre Curling Club. Members are encouraged to bring any interested seniors to investigate.
It was suggested at the executive meeting held on September 25th that if a member of our league brings in a new member that his/her name be eligible for a draw for a free membership to be held at the end of the season. This would be a $40.00 rebate for that person. Up to 5 draws would be held. Further comment to come.
Changes for the 2012-2013 season
Registration fees remain the same @ $ 40.00 and $4.00 a game.
Participants taking the bus for the Iroquois Falls challenge will pay $ 15.00 (up $ 5.00) to help pay increased bus transportation costs.
Members who wish to participate in the NOCA playdowns will be permitted to join the McIntyre Curling Club for a nominal fee of $ 1.00 for this event only. Regular playdown fees will apply.
Season begins Oct. 30th and ends March 28, 2013.
Minutes of General Meeting
Minutes of our year end General Meeting held on April 5, 2012 are posted on the Minutes page at left.
Joe Gubbels Fun Spiel
Results and pictures are posted on the Joe Gubbels page, 2012 Event at left.
Roy Carroll Bonspiel March 6 & 7
Roy Carroll Results are posted on the web page at left.
Defibrilation In-service
An in-service on the use of a defibrilator that is located at the curling club was held between games on Thursday, March 8th. About fifty of our members attended the 45 minutes demonstration given by the Red Cross. The life saving procedure that was demonstrated as well as the effectiveness and step by step instructions on its use was well received by the group with great interest. It is a safe machine to use in an emergengy.
Thanks go to the city for providing the defibrilator and the Red Cross for providing us with the means to use it.
Stan Wallace
We are sad to announce the passing away of Stan Wallace on Saturday, December 3rd, 2011. Stan was an avid curler since he joined the league in 2001 until his illness last year. He was not only skilled in many sports but he epitomized good sportmanship. He had the keen ability to help others improve and enjoy their game. One would be proud to call him a friend. He will be missed by many.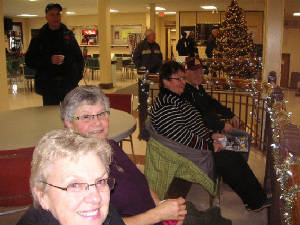 Mae Beauvais, Connie Grosvenor, Betty and Stan Wallace watch the action at this year's Dusty Baker.
Dusty Baker Bonspiel: Nov. 15-16, 2011
Timmins played the perfect hosts for the Bonspiel with the three out of town teams( Iroquois Falls-2 and Smooth Rock Falls) placing first, second and third respectively. Bob Hardy's team placed first. Reg Keat's team(SRF) placed second and Elmer Fisher's team placed third. Orval Turcotte's team from Timmins placed forth.
For complete results and pictures see the Dusty Baker link at left.
P.S.
At the end of the day, Ray Schizkoske mused over his fortune cookie which read:
"There is absolutely no substitute for a genuine lack of preparation"
Announcements
A moment of silence was held on the first curling day in honour of two members of our club who passed away this summer. They were: Pierrette Steinbrunner and James McClinchley.
Local Team Participates in Teacher Bonspiel
Four members of our club participated in the 63rd ANNUAL NORTHEASTERN ONTARIO MEN TEACHERS' BONSPIEL held in Kapuskasing on January 21 & 22, 2011. The team of Bill Vane, Ray Ginglo, Don Critchley, and Dave Passmore narrowly missed winning the event by a mere 1/2 point. The team was one of only two teams who won all three of their events. Congratulation boys.
To note: Since the first annual bonspiel held in 1948 Don Critchley has attended yearly, 60 times. He was not elligible for the first two events and missed only one since. Wow, what a feat!
Enter content here