Roy Carroll Bonspiel Teams and Draw 2019
Full Team Results From the Roy Carroll 2019 Bonspiel
Roy Carroll Bonspiel Teams and Draw 2018
Full Team Results From the Roy Carroll 2017 Bonspiel
Larry Lachance presents prize to Team O"Donnell
From Left: Rolly Cote, Terry O'Donnell, Larry, Brian Bertrand, Buddy Cline
Full Team Results From the Roy Carroll 2017 Bonspiel
Teams participating in Roy Carroll Bonspiel February 28 - March 1, 2017 (in Iroquois Falls)
March 1-2 2016 Event
The team with Skip: Ed Richter, Vice: Ray Ginglo, Second: Bob Third, and Lead: Jack Watson won the event with three wins and one loss (261.1 pts).
The team with Skip: Chuck Harrison, Vice: Guy Deslauriers, Second: Ted O'Connor,and Lead: Sheila Harrison came in second also with three wins and one loss (259.4 pts).
Roy Carroll (Full List) Standings 2016
March 4 & 5, 2014
Final Standings 2014
The Sisco team from Cochrane lost their first game of the Roy Carroll Spiel but won the next three in convincing manner to capture first place. The Deforge and Lachance teams from Iroquois Falls had a challenging game on the first day but also bounced back strong on the second day of the event.
The Dickson team from Timmins performed well in their first three games but could not get past a determined Berlinghhoff women's team from Iroquois Falls..
Lunch and refreshments.were enjoyed by all. A great event hosted by Iroquois Falls.
The winning 2014 team from Cochrane composed of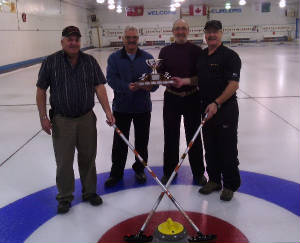 Ed Sisco, Doc Ross, Bud Cline and Frank Sisco.
Allen Carroll presents trophy to team Lachance
From left:Allen Carroll, Larry Lachance, Marie Lachance, Denise Dumont and Guy Morrisette
Timmins New Horizons sent seven teams to this year's event. The popularity of this event is very evident with the maximum number of teams participating. Allen Carroll, Roy Carroll's son who presented the winning trophy stated that it had been twenty years since his father's death and that he would be very proud to see the number of curlers participating in the bonspiel being held in his honour.
A good time was had by all the winning teams and most of the losing ones as well. Larry Lachance's team from Iroquois Falls placed first and Wayne Jaszan's team from Timmins came second.
March 6 & 7, 2012 Event
Timmins New Horizons sent six teams to this year's event. A big surprise was Bill Pye's team who entered at the last minute and posted an excellent score on the first two draws and held on on the next two to post second place overall in the two day bonspiel.
Basil Deforge's team from Iroquois Falls who had placed fifth at last year's event won all of his games in a convincing manner with steady play and good knowledge of the ice defeating Bill Vane's team in the final game. Bill's team finished third overall.
A special Thank You to organizer Elmer Fisher and his group from Iroquois Falls who hosted an excellent event with a great meal, good hospitality and friendly competition. A fun time was had by all.
For complete results and Timmins teams check the links below.
Local Teams Participate in Roy Carroll Bonspiel On March 8 & 9, 2011.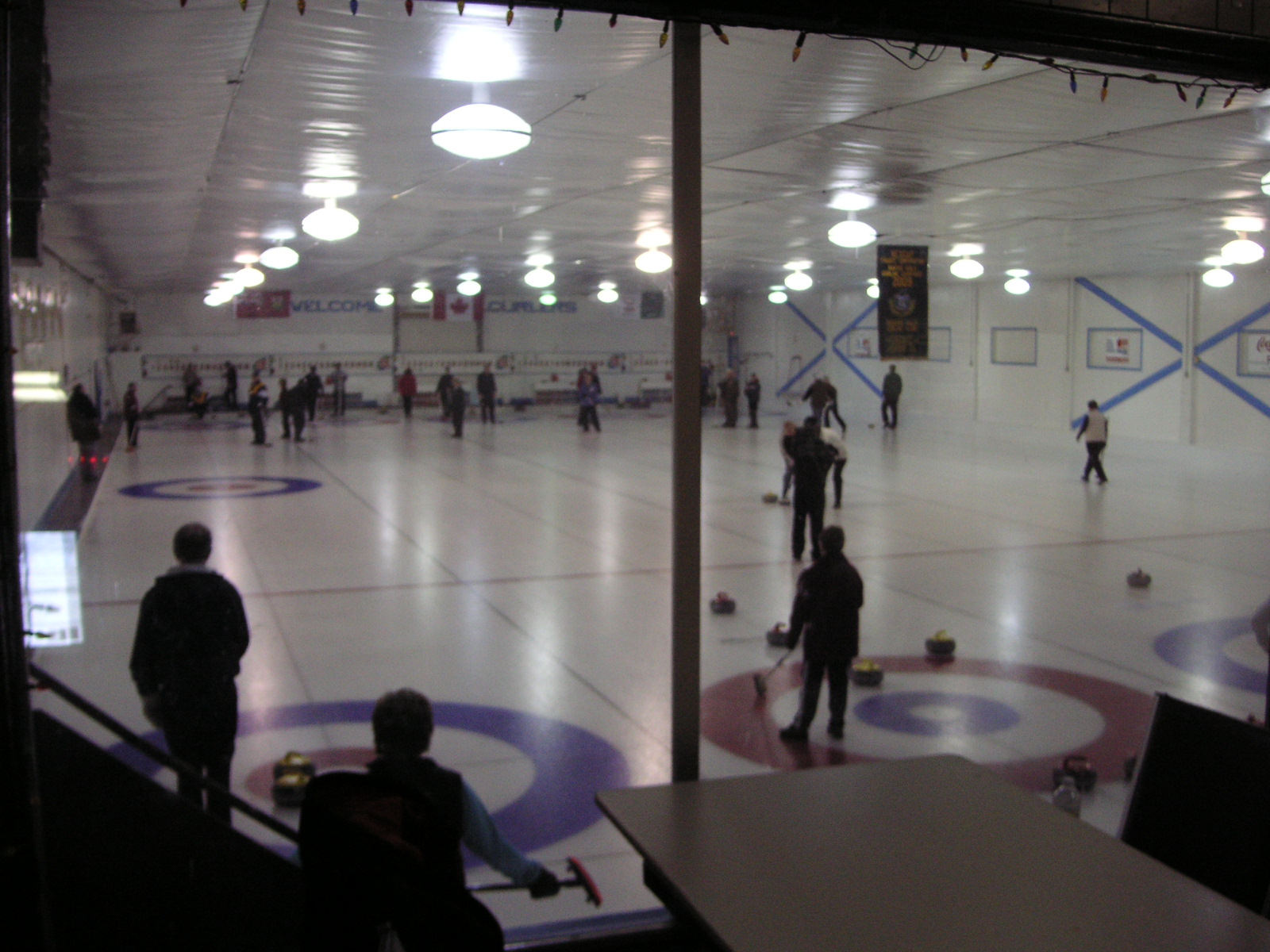 The Timmins Seniors' Curling League sent seven teams to the Roy Carroll Bonspiel in Iroquopis Falls on March 8 & 9, 2011. The two day event consisted of four games of six ends each scored on a percentage basis. All participants received a $ 15.00 prize and were treated to a wonderful meal hosted by the club. This was an excellent seniors' event. Congratulation to the host club.